Influencers,

Video Creators,

Podcasters,

Musicians,

Coaches,

Artists,

Educators,

Keep your creativity alive !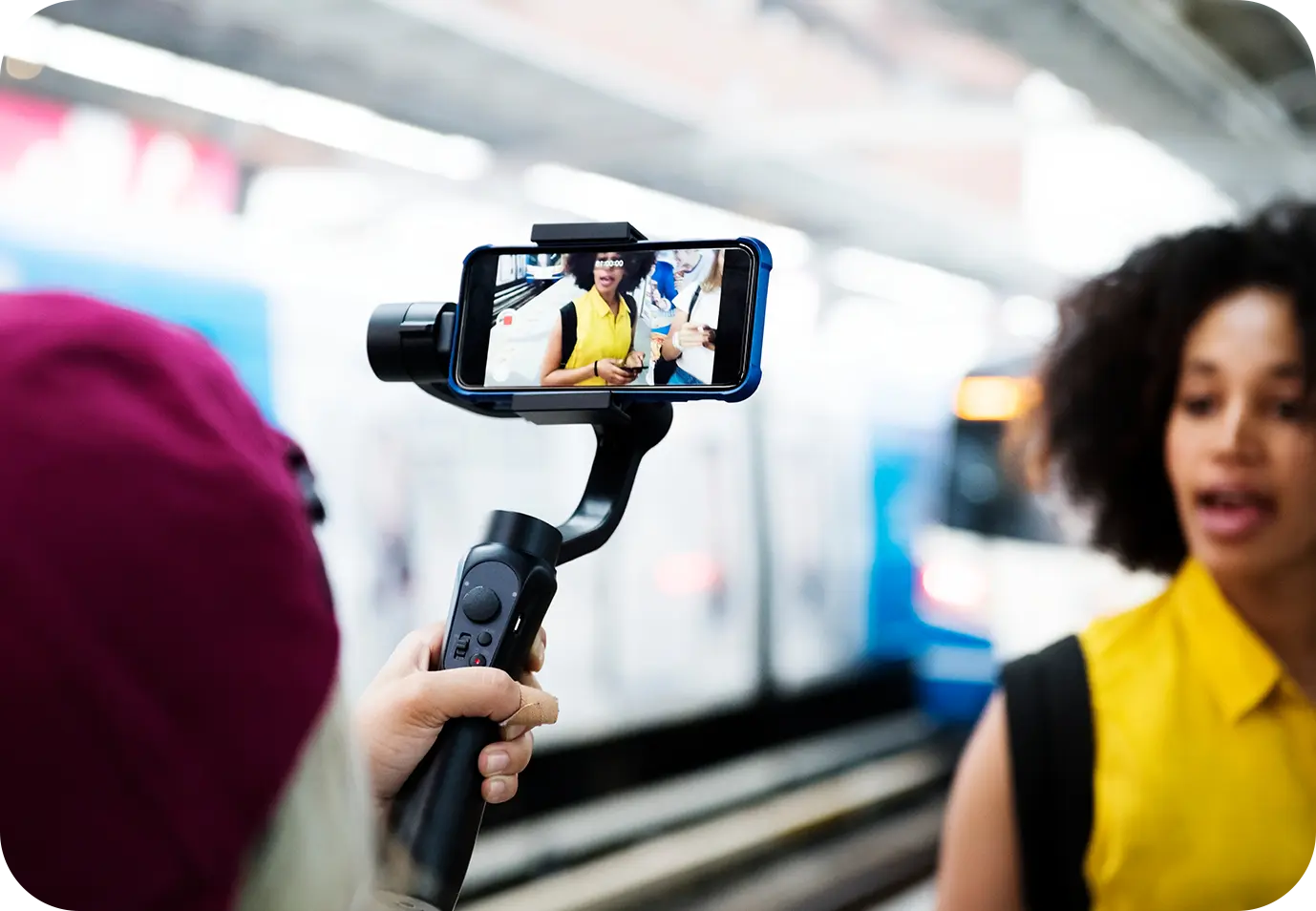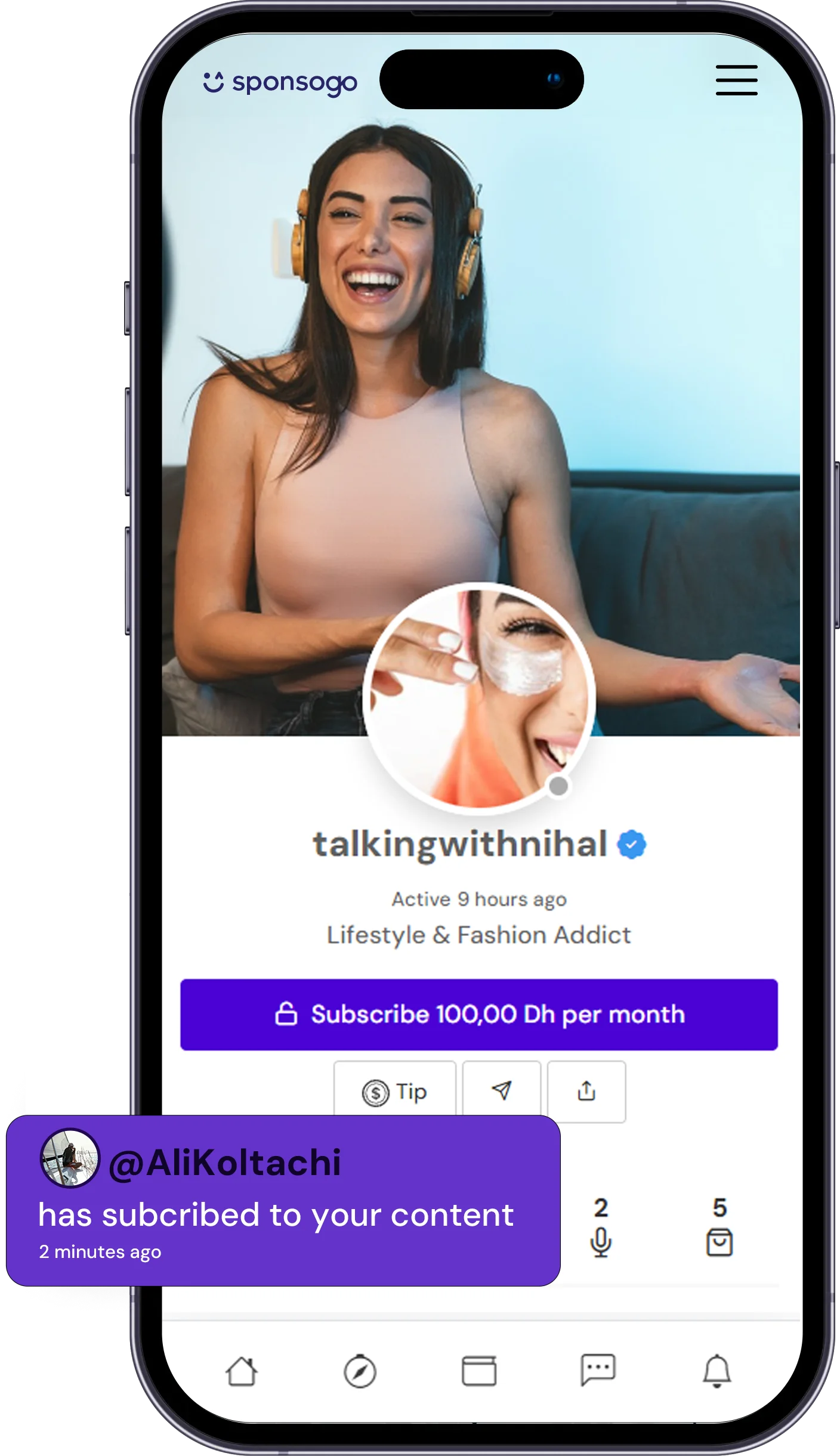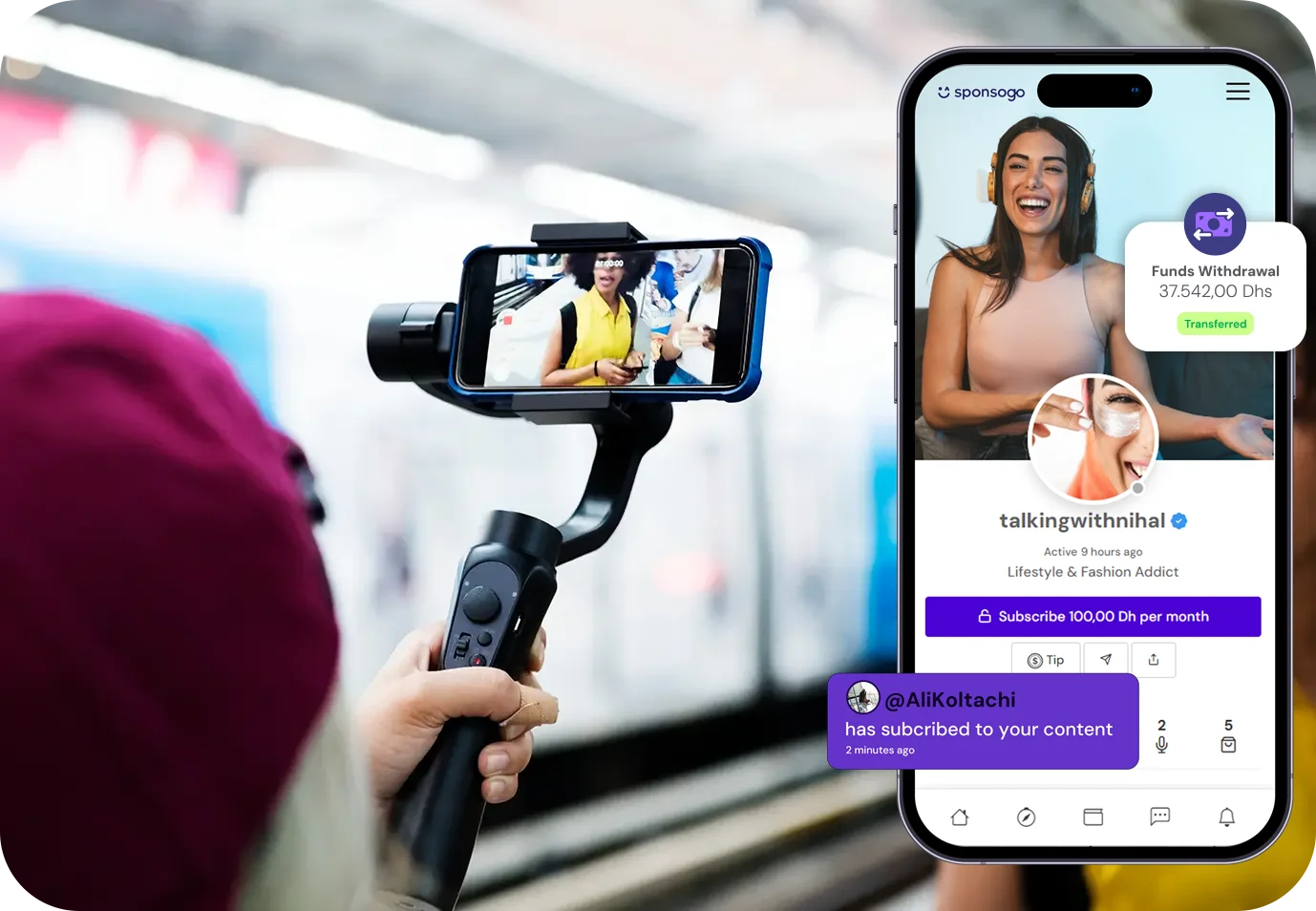 Sponsogo is a content monetization platform that empowers creators to build a community with their biggest fans, share exclusive works, expertise, and services, while turning their passion into a lasting creative business. Starting on Sponsogo is free for both creators and their fans.
For those looking to earn an income they have the option to run a subscription or create their own E-shop. On Sponsogo, creators maintain direct contact with their community, without worrying about ads or algorithms that could come between them.
Create your free account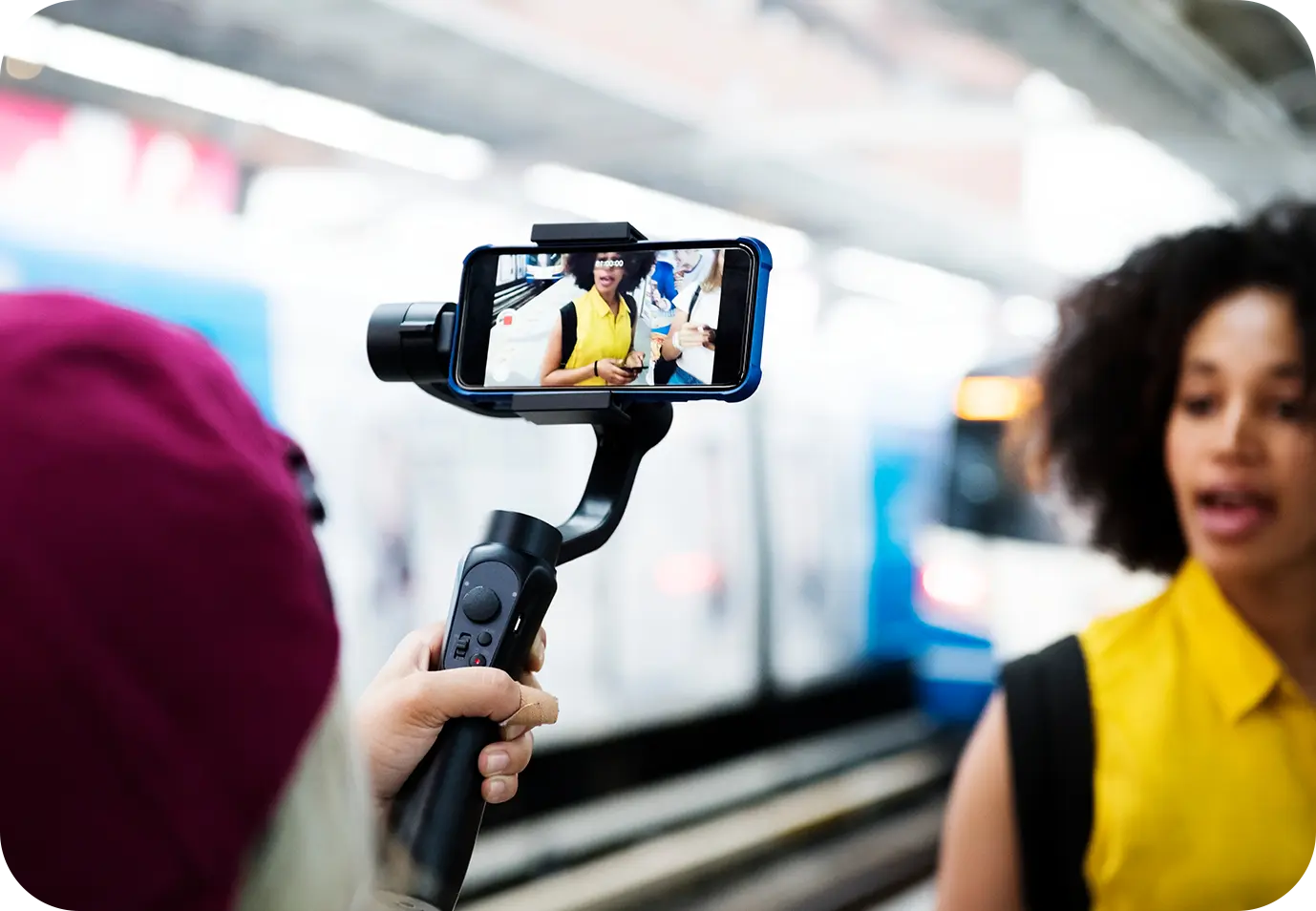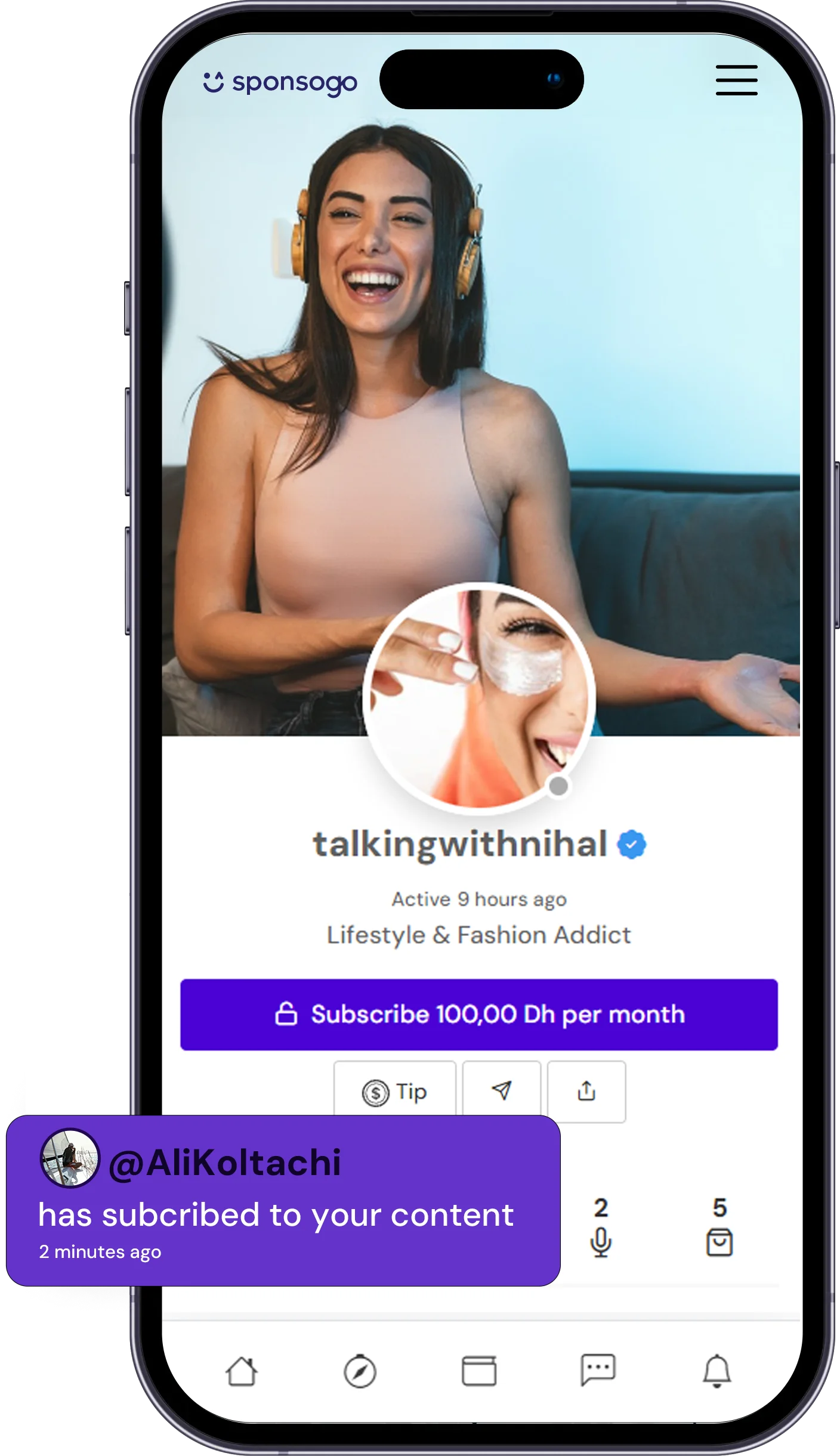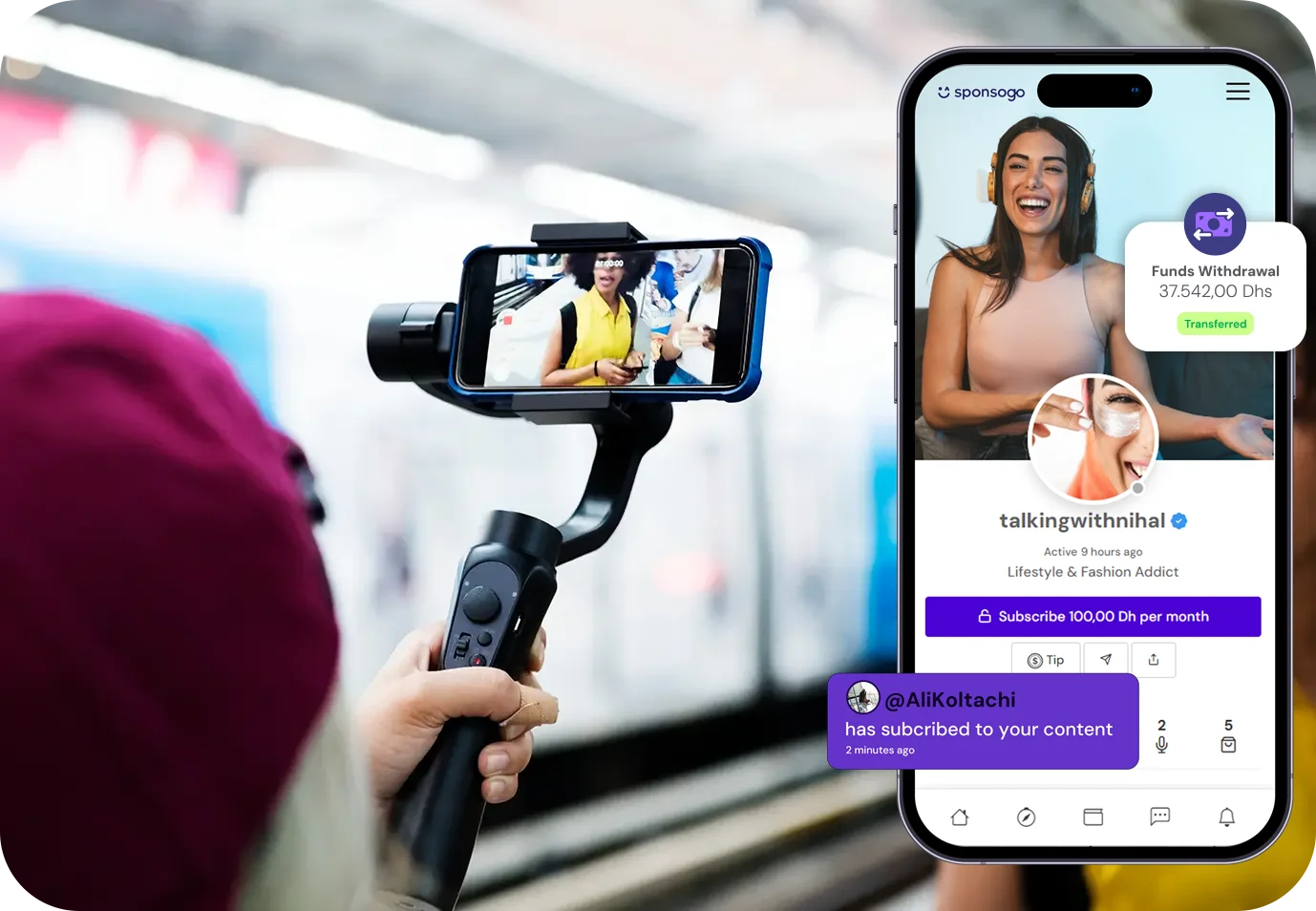 Content monetization is a
real challenge
The landscape of content monetization has transformed, posing a genuine challenge in generating income. Social media platforms' algorithms have advanced, creating obstacles in generating substantial revenue to compensate creators for their hard work and bolster their inventive concepts.
SponsoGo is THE ultimate solution, both for creators and for their valuable community of subscribers. It creates an unprecedented ecosystem of exchange, based on mutual support and exclusivity through various revenue-generating mechanisms.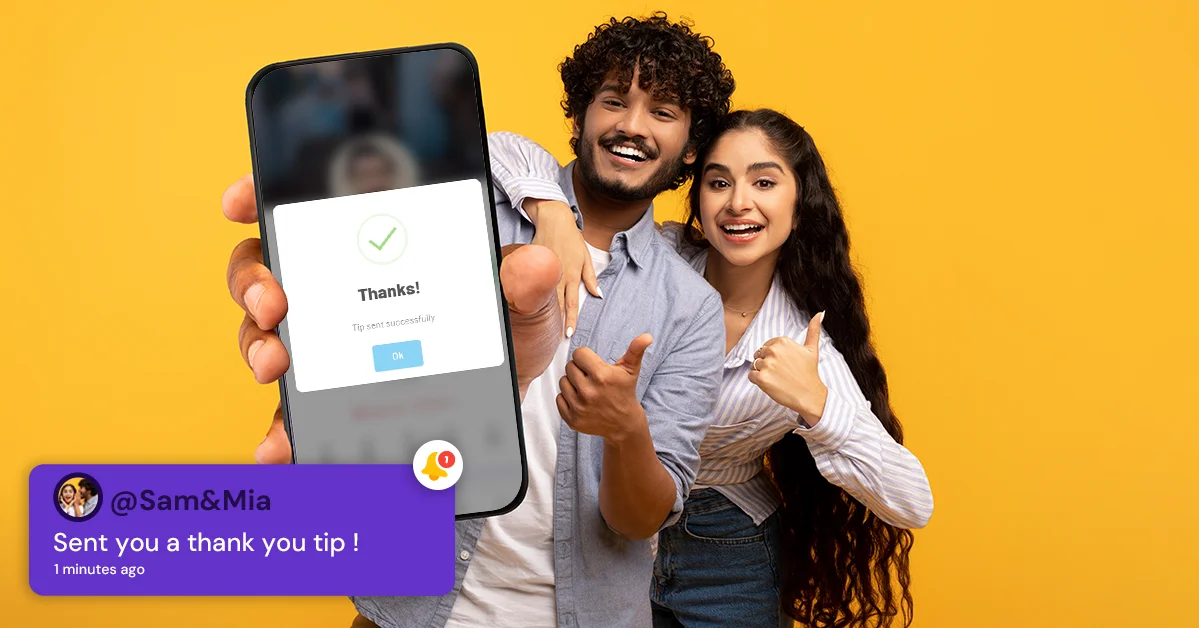 Enhance the involvement of your community
Offer your existing audience on your social networks a new, an exclusive environment to strengthen their loyalty and support for your work.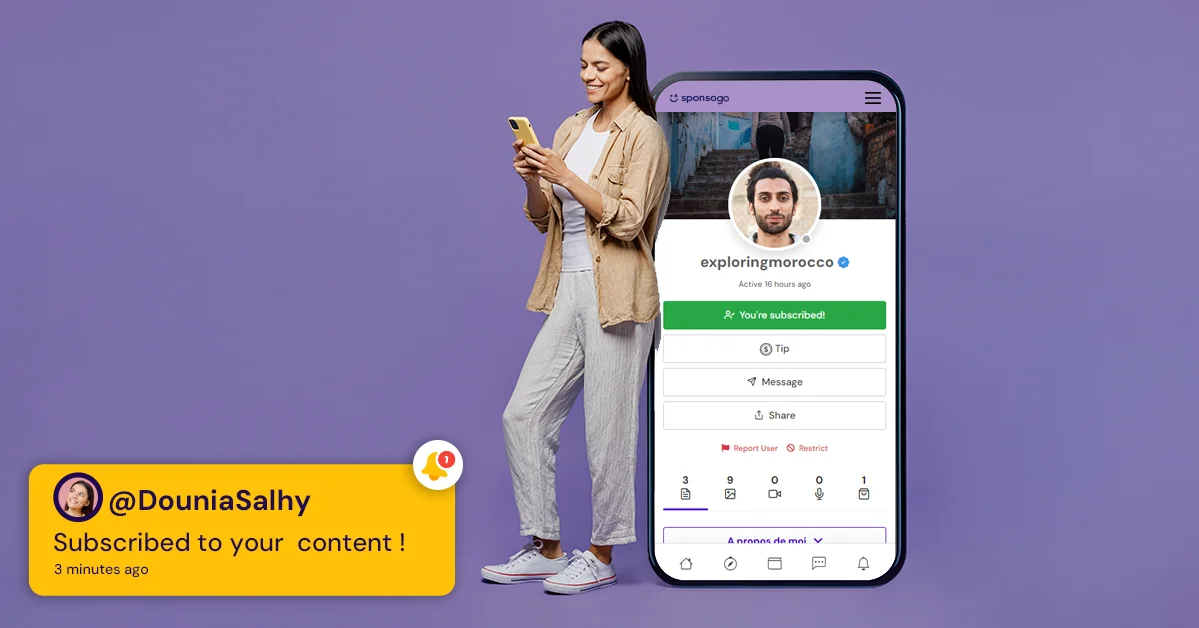 Highlight your premium content
On social networks, your content is limited by algorithms. These restrictions have a negative impact on your revenues, because you only reach a small portion of your audience. On SponsoGo, your content is distributed directly to all your subscribers.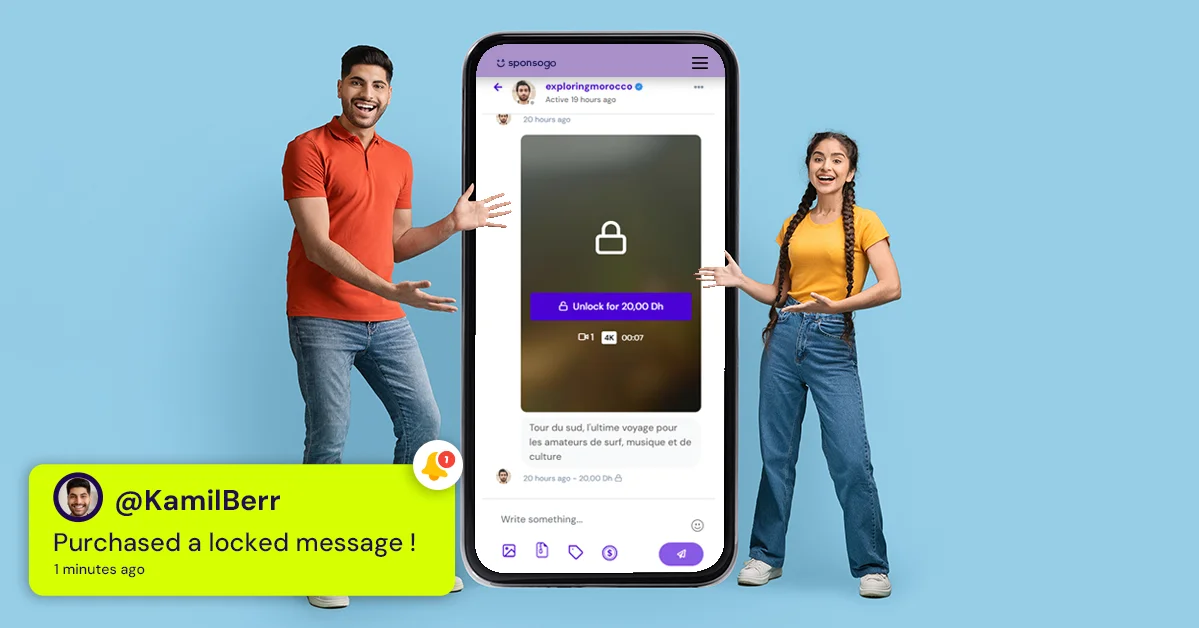 Boost your earnings
Use Sponsogo's multiple revenue stream mechanisms to generate maximum income from your content and interactions. Maintain your activity, fund the production of new content and create exclusive creations for your subscribers.
How does Sponsogo operate?
Unify all your income streams in one platform!
Take advantage of diversified monetization models and offer new ways to connect with your community.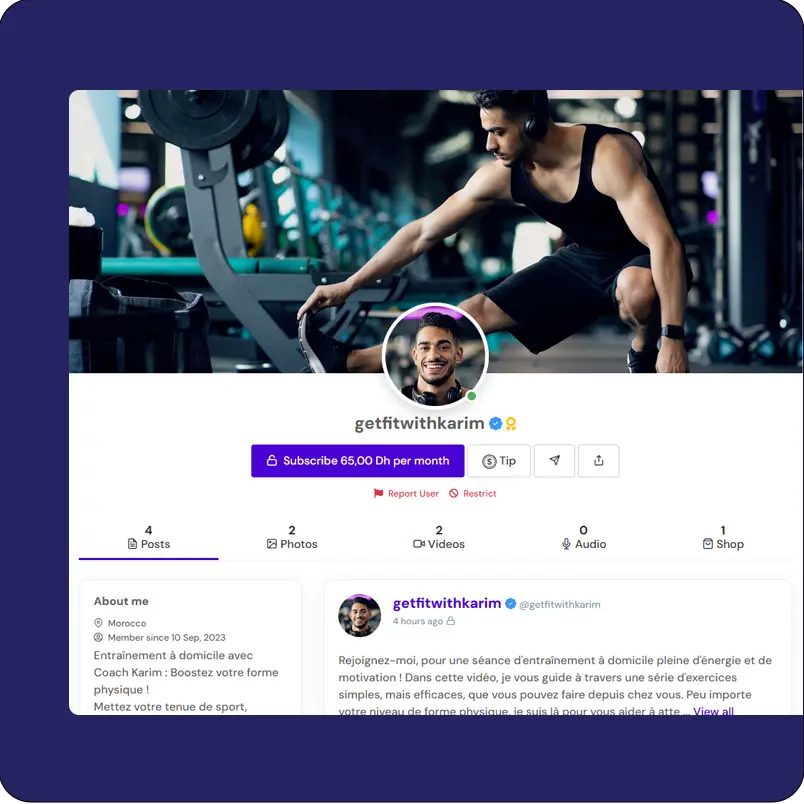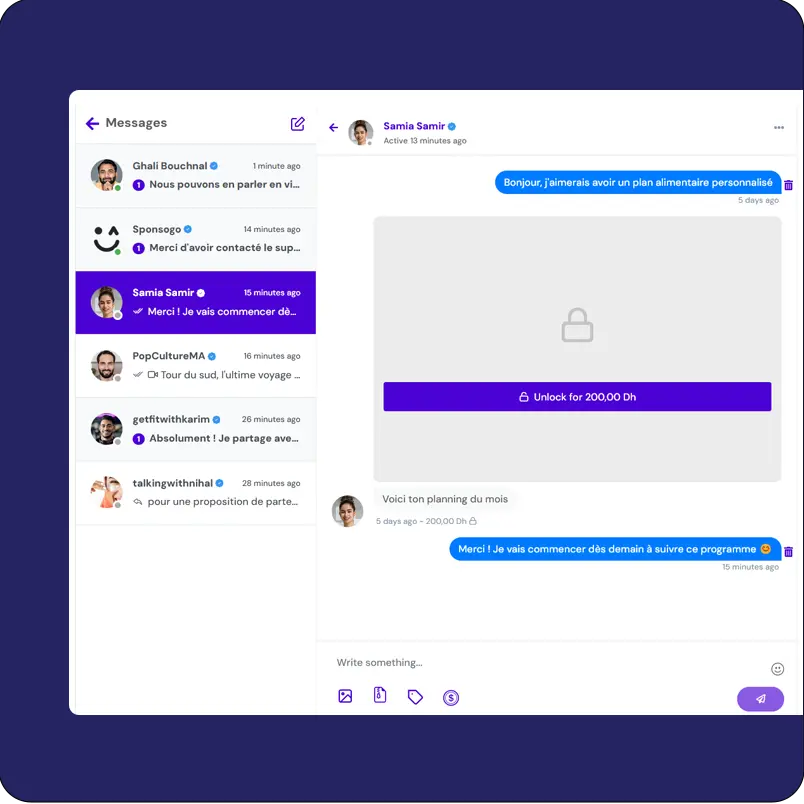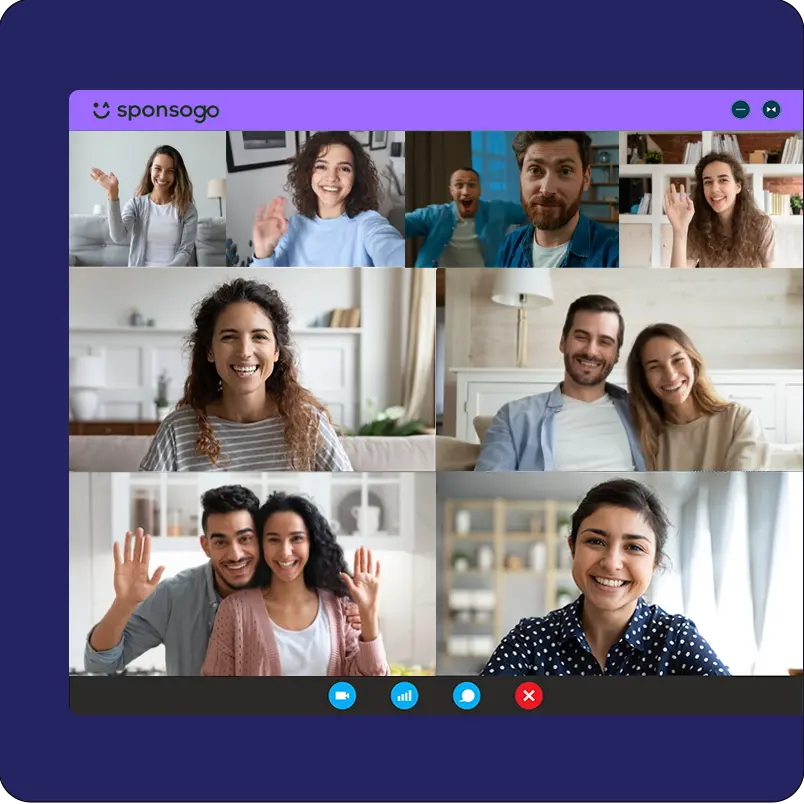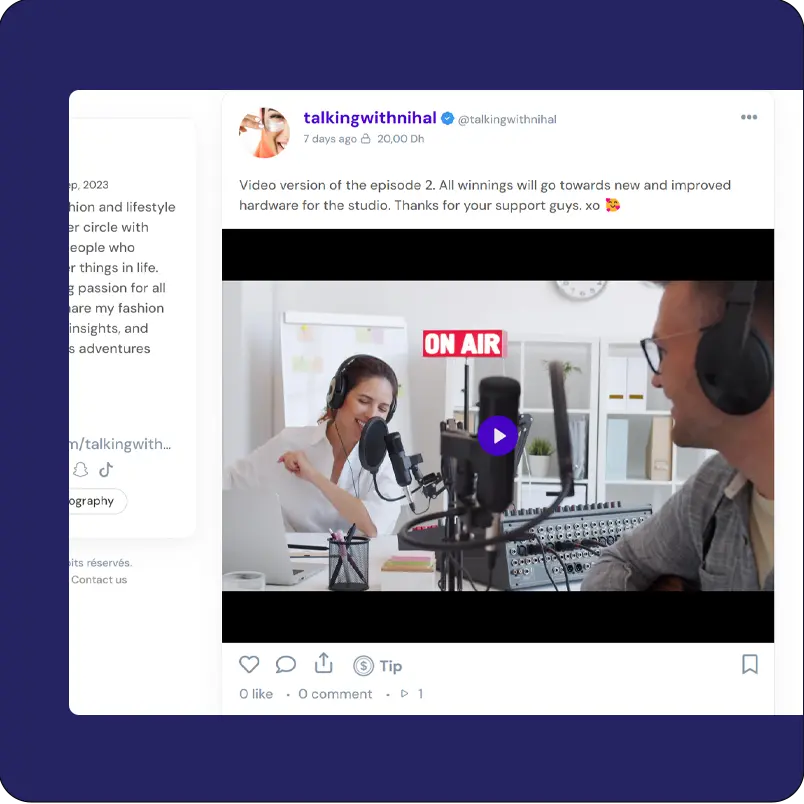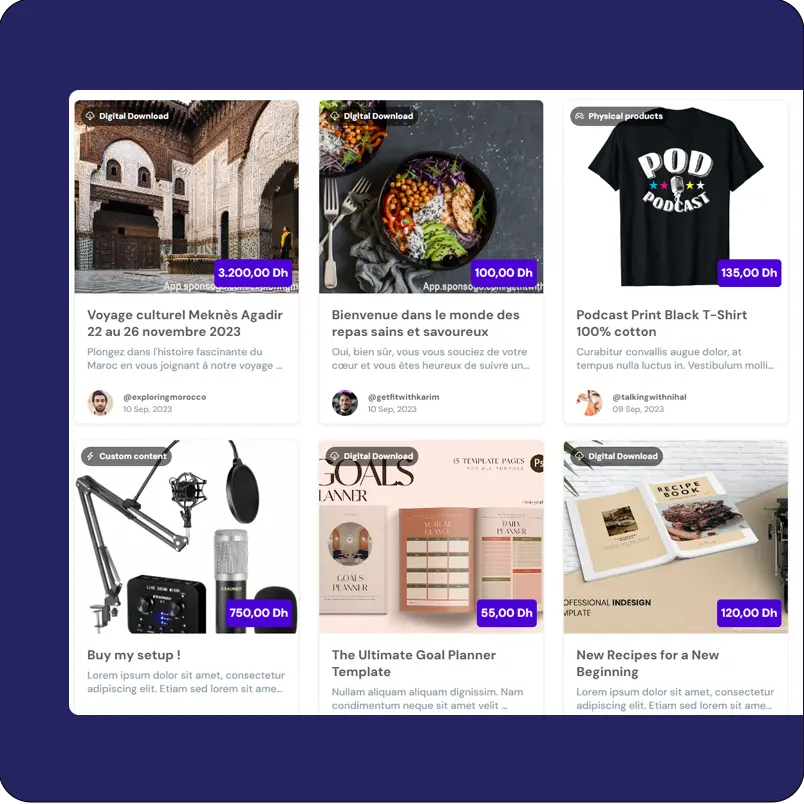 Why choose SponsoGo?
A dedicated account manager 7/7
Sponsogo actively supports you, with the assistance of a dedicated account manager to answer your questions and help you set up and operate your account.
Protecting your copyrights
The Sponsogo system is designed with technology to protect your content from misuse or theft. What's more, our technical and operational teams intervene in real time to help you lock your creations.
Quick withdrawals of your income
With Sponsogo, there's no need to wait until the end of the month, adhere to a set timeframe, or reach a particular threshold. The moment you start earning, you can effortlessly withdraw your income directly to your bank account with just a few clicks!
Locking your content by genre and region
Is your content aimed solely at women? Do you want your content to be seen in one or more specific countries? Sponsogo makes it possible!
Your subscribers pay in local currency
No more need for international cards with Sponsogo. Your subscribers pay in Dirham if they are in Morocco!
Secure, fast, multi-region servers
Upload your content at no cost to our last generation servers, which come with unlimited storage and bandwidth. Enjoy seamless and high-quality content streaming up to 8K resolution, with swift and reliable bandwidth, all while benefiting from cutting-edge content protection features such as DRM, Watermarking, User-tagging, URL restrictions, and more, free of charge.
What sources of
revenue

can I explore on Sponsogo?

Sponsogo is dedicated to providing you with a comprehensive set of resources designed to help you maximize your earnings from your diverse content and services.
However, forecasting or assessing your potential income on Sponsogo can be quite challenging. It relies on factors such as the nature of your content, the engagement level of your community, and your pricing strategy. Below, you'll find a tool to help estimate your revenue based on average creator performance.
Enjoy your revenue simulation!
Enter the number of subscribers/followers on your social networks
Set a price for your monthly subscription
You may earn between
3.199

Dh and

31.992

Dh per month*